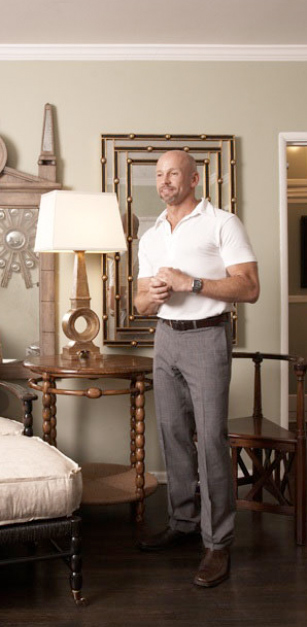 Aesthetic, an original line of furniture, lighting and accessories by Richard Johnson, seamlessly integrates geometry, sensuality and mystery. Johnson's research into history and theory, as well as his careful observations of striking interiors and architecture abroad, are made manifest in pieces that strike an original balance between innovation and reproduction. "I realized that a lamp is not just a lamp" Johnson says "There can be a story there, something that sparks the imagination. Every person will have a different experience with each piece as they call on their collective memory with clues given by historic reference."
A California native, Johnson is the son of an artist and a developer and initially aspired to be an architect. With a degree in Architecture from USC he also participated in summer study programs in Rome and at Cambridge University, England, which exposed him to a place where art, architecture and history converge. After school, Johnson worked briefly in architecture but within years found himself in the world of furniture, working with such companies as Charles Pollock, Charles Fradin and Dessin Fournir. Inspired by his growing knowledge of furniture details and buoyed by his valuable experience, Johnson soon began plans for Aesthetic.
What makes Aesthetic fresh and original is the way Johnson transcribes the details of past works onto very modern forms, disconnecting a specific element from a building or a found object that has existed for decades, even centuries and re-establishing it within a very current context. The designer is not simply reproducing lamps or chairs from history's stylistic tradition; he is building entirely new forms from the minutiae of the past. He's spent endless hours sketching and studying in London's Victoria and Albert Museum, the Musee d'Orsay in Paris, as well as visiting interior masterpieces and architectural work throughout the world. It is this history recorded in precise detail, these stories of experience, which makes Johnson's work so vibrant. The resulting pieces' precise era remains ambiguous, caught somewhere between early civilization and contemporary global consciousness. Just as the works represent a multiplicity of historical perspectives, they also offer various physical perspectives for interpreting and enjoying the forms. Knowing that a piece finds it's source in a foreign land and a past tradition only enriches the experience of ownership, because it means that one is lucky enough to own a story as well.
The Aesthetic collection is hand crafted in the USA by California artisans in the Los Angeles region. All the lamps are hand carved from solid wood. All the furniture is hand cut, shaped and assembled. All finishes are hand applied.